FOOING Ice Cube Maker - Ready in 6 Mins
Product Price
$129.99
Product Review Score
4.97 out of 5 stars
46 reviews
When you order through these links, we may earn a commission at no additional cost to you.
Additional Product Details
Quick Ice Making in 6 Mins. FOOING ice cube makers adopt premium finned cooler, it has large heat dissipation area, and high cooling efficiency. Just 6 minutes to get 9pcs of bullet-shaped ice-cubes per cycle and up to 15 kg of ice in 24 hrs. Food grade liner, no abnormal odour, rest assured use.
Low Noise & Energy Efficient Ice Machine Maker. The ice maker machine has fast cooling effect and low consumption with powerful compressor, high quality copper aluminum fin condenser and 21g R600a refrigerant. It runs at less than 35dB very low noise working environment.
Smart Ice Cube Maker with LED Display.With simple control panel, just add water, select the ice size,it is ready to work. When there is not enough water Or when the ice bucket is full, the indicator will light up, reminding you to add more water or to remove the extra ice cubes.Thickened foaming layer ensure a good insulation effect, ice will not melt within 5-8hours at normal temperature.
Large Capacity& selectable icecube sizes.Counter ice maker machine holds up to 2 liters of water. Includes an ice scoop and removable ice bucket which has a capacity to hold up to 70-100 pieces of ice cubes. 2 ice sizes optional. Popular bullet-shaped ice, not easy to melt and stick together.
Portable Ice Makers for Home Office. Measuring 12''X 9'', weigh 7kg.Our portable ice maker is ideal for countertops. No preparation, procude ice cube instantly, add it to your cola/wine/whisky/fruit juice/coffee for a better taste. Suit for home, office, barbeques, outdoor parties, or basement bars.
Our Policies
Secure Checkout

Guaranteed safe & secure

Easy Returns

Fast & easy product returns
More options on eBay...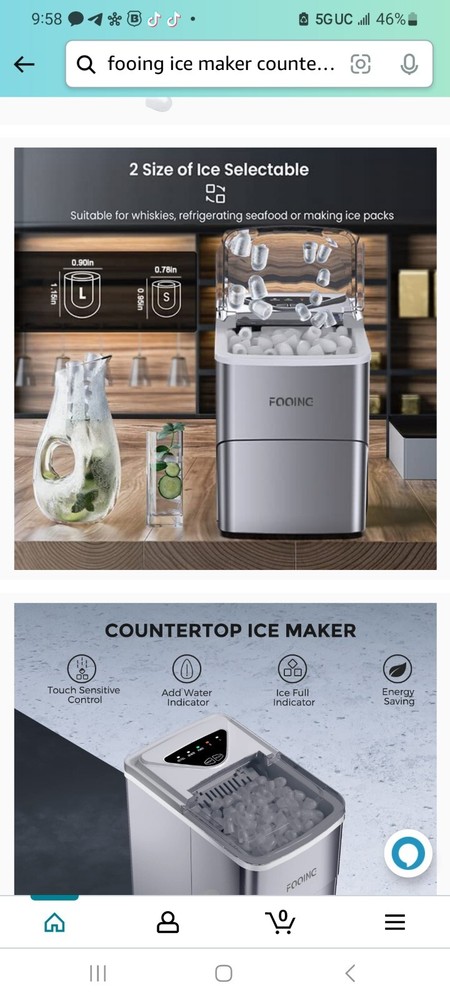 Ice Makers Countertop, 9 Cubes Ready in 6 Mins, 26lbs/24Hrs Ice Cube Maker
When you order through these links, we may earn a commission at no additional cost to you.