Countertop Ice Maker, 28 lbs/24 Hrs, LED Display
Product Price
$129.99 $84.99
Product Review Score
4.67 out of 5 stars
92 reviews
When you order through these links, we may earn a commission at no additional cost to you.
Additional Product Details
🧊 【Fast Ice Making Helps A Lot】 The NORTHCLAN ice maker takes 5-8 mere minutes to make a single batch of 9 crystal bullet-shaped ice cubes and up to 28-30lbs of ice per day. 1lbs of ice is roughly enough for 3 drinks. So, maximum 90 drinks per 24 hours, perfectly meet the demand of your household or party, save ca. 100 quid per month. Save your money and time. Say Buh-bye to ice trays and bags
🍻 【Portable & Multi-Scenario】 The NORTHCLAN countertop ice maker can be located anywhere in the kitchen with free countertop space, thanks to its compact size 30(D)*24(W)*33(H) cm. Camping, tailgating, boating, RV, office, rec room, as long as there is a power source and water, the scenarios in which a portable ice maker machine can come in handy are nearly endless.
🍃 【Energy- & Water-Saving】 The NORTHCLAN ice maker countertop tends to feed the melted ice back into the ice maker to be refrozen, saving time and water, and the high-quality foam layer insulates heat well, ensuring the machine uses less electricity and keep the ice solid longer, which keeps utility bills low and meanwhile reduce the impact on the environment. Different from others, the NORTHCLAN interior is made of white food-grade pure material with no odor, all for your health and safety.
🍸 【Simple & Quiet】 This NORTHCLAN ice maker countertop operates at the push of a button. Simply plug in the ice maker, fill the reservoir with clean, cool, filtered water, push "ON/OFF" to let the machine work quietly below 35 dB in the background of your kitchen or office, thanks to its quiet cooling system. The infrared sensor automatically detects "ICE FULL" and "ADD WATER" situations and sends audible and visual alerts.
❄️ 【Widely Applicable】 With its properly sized surface area, the bullet-shaped cubes slow the speed at which they'll melt, preserving the flavor of the beverages longer than nugget ice, and meanwhile tend to cool drinks at a faster rate than ice balls or ice cubes. It bears some beverages while chewing because of its hollow center. The round smooth edges won't hurt your lips. Besides cooling drinks and making smoothies, bullet ice can also be used to preserve foods and as emergency ice.
🧊 TIP - An ice maker is by definition not a freezing machine, it cannot keep the ice frozen. Use the ice immediately or keep them in a fridge
Our Policies
Secure Checkout

Guaranteed safe & secure

Easy Returns

Fast & easy product returns
More options on eBay...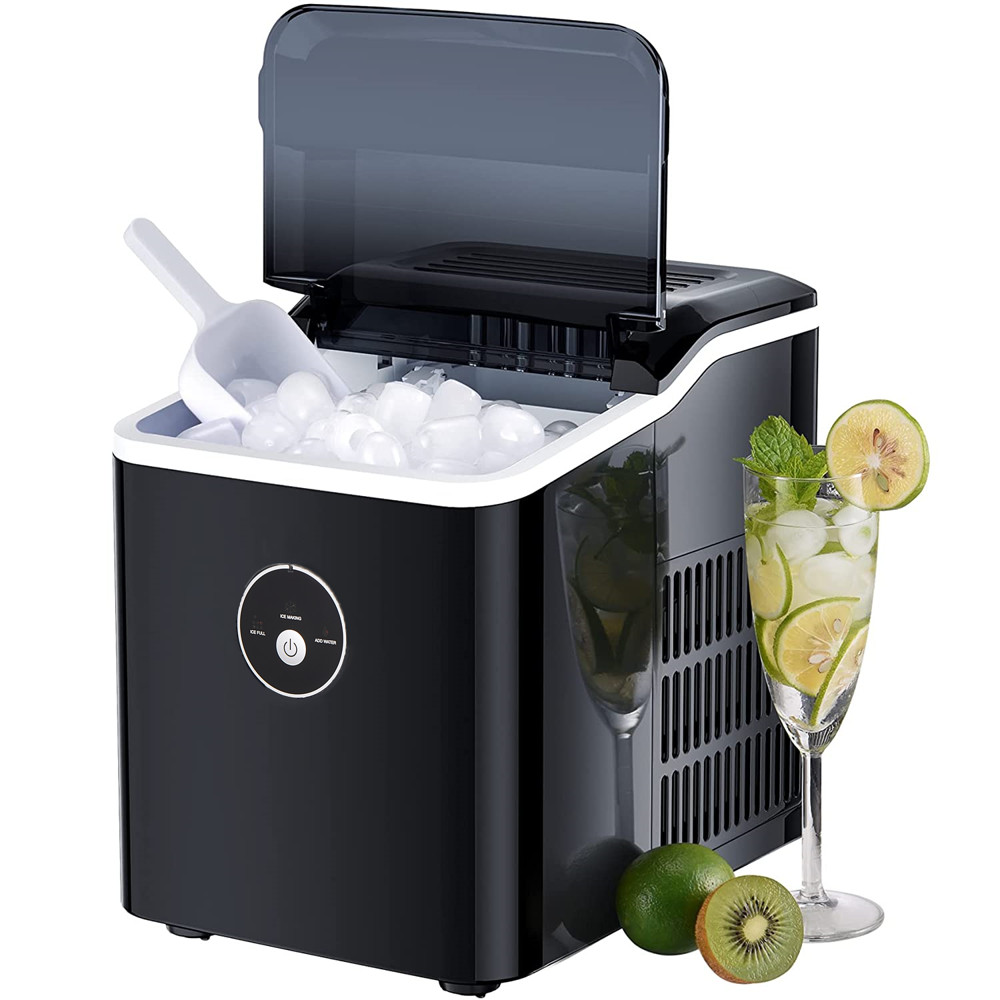 Ice Maker Machine Countertop, Make 28 Lbs 24 Hrs, with LED Display, 9 Ice Cubes
When you order through these links, we may earn a commission at no additional cost to you.